Breakfast
I thought I would do another recipe hub, but do a receipe for breakfast, lunch and dinner. I have found that going meatless is not as hard as I thought it would be. Some substitions are good, but other taste pretty blah. I must admit the only meat product I kind of miss are my hot dogs, yes my Oscar Meyer beef hot dogs. I have tried different veggie, and vegan hot dogs, but I am still trying out what I can find. I do not claim to have to be a strict vegetarian because I do eat eggs, I understand some do not. If anyone have any tips on making great veggie dogs please give me a tip on how to prepare them. It is interesting that I find myself eating less than what I did before. At first I was using eggplant for a lot of meals, can I tell you that became old very quick. Still learning how to mix it up in the kitchen (lol). My real goal is to later down the road become a vegan, I like that little engine in that respect (I think I can, I think I can) well you get the ideal.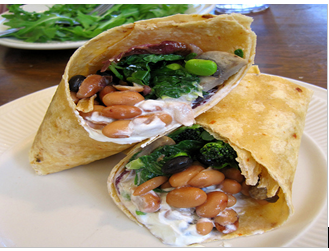 Veggie Breakfast Burrito
1 Flour tortilla
1/2 c. Whole pinto beans (canned)
1/2 Tomato, diced
1/2 c. Shredded green cabbage
1 oz. Sharp cheddar cheese, shredded
This is one of my favorites, the cabbage can be subsituted with lettuce. Once your pinto beans are to your desired tenderness, lightly brown your tortilla shell on both side, place all your ingredients inside, and enjoy!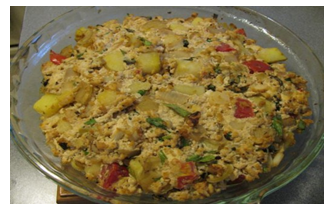 Breakfast Casserole
3 cups cubed and cooked potatoes
2 tablespoons soy sauce
1 1/2 lbs firm tofu, mashed
1 medium onion, chopped
2 garlic cloves, crushed
2 tablespoons olive oil
2 tablespoons parsley
2 teaspoons basil
1/2 teaspoon black pepper paprika
Mix all ingredients, bake in casserole dish at 350* for 20 minutes.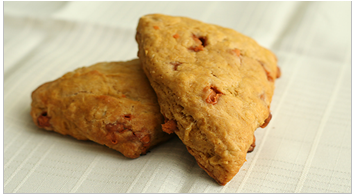 Butterscotch Scones
2 cups all purpose flour

1/3 cup brown sugar, packed
1Tbsp. baking powder
1/2 tsp. salt
1/2 cup butter cut into pieces
1/2 cup cream, very cold
1 egg
1 cup butterscotch chips
Preheat oven at 400*; mix flour, sugar, baking powder, and salt in medium bowl. Add butter; using fingertips, rub to form coarse meal.
Use a second bowl, to mix your cream and egg. Gradually put in your flour mixture. Knead thoroughly to moisten and form clumpy dough.
Start adding your butterscotch chips, a few at a time
Drop dough by 1/4 cupfuls onto lightly greased baking sheet about one inch apart should be fine.
Bake for 20 minutes


Veggie Lunch
Autumn Minestrone
2 14 oz. cans vegetable broth
1 18oz can crushed tomatoes, undrained
3 medium carrorts chopped
3 small zucchini cut 1/2″ slices
1 medium yellow bell pepper chopped
8 medium green onions sliced
2 garlic cloves chopped finely
2 cups shredded cabbage
2 teaspoons dried marjoram
1 teaspoon salt
1/4 teaspoon pepper
1 cup uncooked instant rice
1/4 cup chopped fresh basil
You will also need a 6 quart slow cooker. Mix your ingredients except for the rice and basil. Cover and cook on low for 6 hours, or until veggies are tender. Stir in your rice cook for another 15 minutes, or until your rice is tender.


What's For Dinner?
Italian Vegetable Soup
½ cup dry navy beans
2 cup water
4 cups vegetable broth
¾ cup carrot sliced, and peeled
½ cup potato sliced with peel
1 tablespoon corn oil
½ cup onion sliced
2 cups canned Italian tomatoes un-drained
2 cups cabbage, sliced thinly
1 cup zucchini sliced
½ cup celery sliced
½ cup canned chickpeas – (garbanzo beans) – drained canned
½ cup rotini or other pasta uncooked
1 tablespoon fresh parsley – finely minced fresh
2 teaspoons dried basil crumbled
¼ teaspoon salt
¼ teaspoon ground pepper freshly
Cover navy beans with water in a large pot. Over medium heat, bring just to the boiling point. Remove pan from heat, cover, and let stand for 1 hour. Drain. Add veggie broth, carrot, and potato. Cover and cook over medium heat until vegetables are almost tender, about 35 minutes. Heat oil in a small skillet and sauté onion until tender, add onion and all remaining ingredients to soup pot. Cook 15 minutes or until pasta is cooked serve hot.

Slow Cooker Spicy Black-Eyed Peas
1 lb. dried black-eyed peas (2 cups) sort peas, and rinse
1 med. Onion, chopped (1/2 cup)
6 cups water
1 tsp. salt
½ tsp. pepper
¾ cup med. Or hot salsa
Mix all ingredients except salsa in 3 ½ qt. to 6 qt. slow cooker. Cover and cook on high 3-4 hrs. or until peas are tender. Stir in salsa. Cover and cook on high about 10 min. or until hot.