We '73 The American Unity Project supports community organizations through hosting events and performing music.
Two US veterans and their classmates—who graduated in 1973—formed We '73 as a response to the hatred and conflict in America.
The conflict is easy to see, but the solution is harder. We '73 strives to help people find ways to support their country, starting in their own communities.
Enter Sanders and King's We '73 Band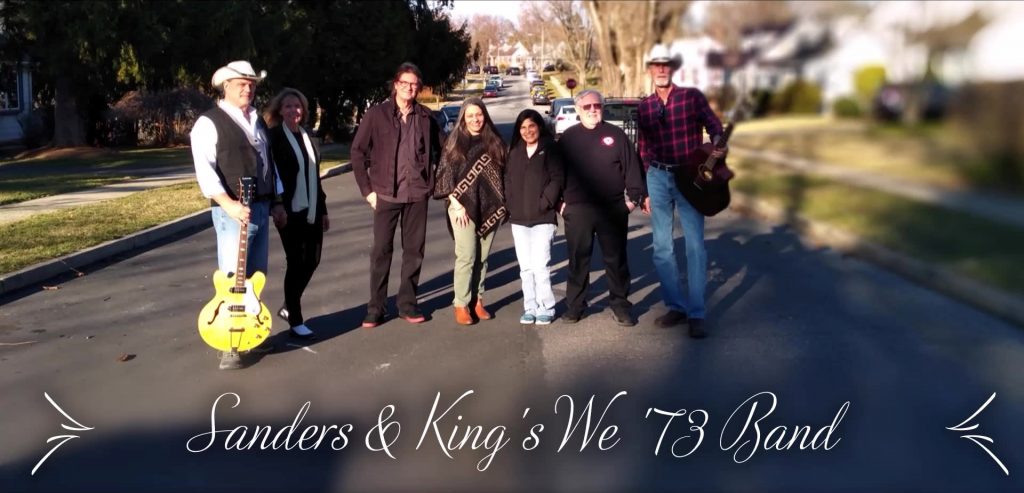 The band makes country, outlaw, and contemporary music that celebrates unity, faith, and love for your fellow man.
We host conferences and concerts where the band plays and community organizations get to present about what they do, ask for volunteers, collect donations, etc. It helps the people in the area learn about the organizations that are working hard to pursue unity every single day.
The music and merch also support the work we do, not only allowing us to host events, but also allowing us to make donations toward nonprofits in the community.
Examples of nonprofits we support are Civil Air Patrol, The Nicky Green Foundation, Freedom House NJ, and Garden State Treatment Center. We're currently focused on the tri-state area of PA/NJ/NY.
We '73 The American Unity Project is non-political.
We don't support any particular political candidates, nor do we advocate for specific political policies. Instead, we focus our efforts from the ground up: loving our neighbors, building strong communities, and breaking down barriers that divide us.
We believe that the best path toward unity is love, and love means rolling up our sleeves and getting to work.
We would love for you to join us!
Here are ways you can come alongside us in our work:
-Get involved with a nonprofit near you! Donating, volunteering, and even giving them a follow on social media are all big ways to help!
-Follow us online or via email!
–Check out our music. Every single stream or purchase helps us help community organizations.
–Buy our merch! (This is an affiliate link, which means we'll get an extra commission at no cost to you if you make a purchase.)
-Love your neighbor. This seems like such a simple little thing, but it's the piece that holds everything together.